Welcome to
First Lutheran Church
Join us as we worship, pray, serve, learn and fellowship as a spiritual community.
Sunday Morning
The first visit to any new community means encountering the new, the different or the unexpected. Whether you are a lifelong Lutheran or have never set foot in a Lutheran church before, we want you to be comfortable.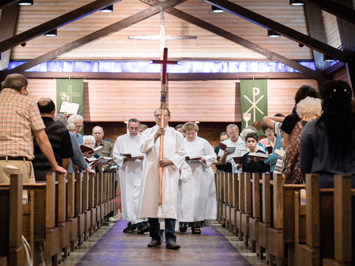 Liturgy
Liturgy is important to our worship because it stays true to our Lutheran tradition and connects us with Christians from around the world.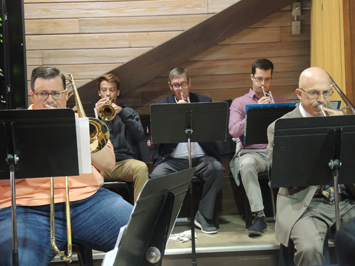 Music
Music is an essential part of our worship as it prepares us to hear the reading of scripture and a sermon of encouragement.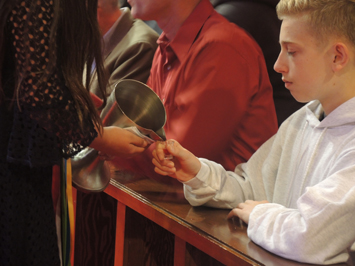 Communion
We invite everyone to share in Communion with us. This is a time to reflect and gather together as a church.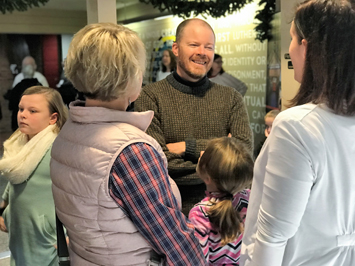 Fellowship
We host a coffee and fellowship time in our Activity Center from 9:15 to 10:45 AM. This is a time to mingle, meet new people and catch up with each other.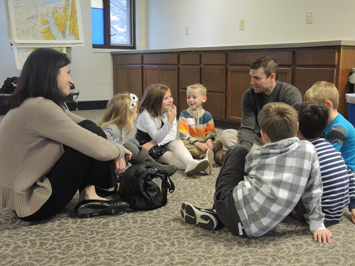 Learning
We offer learning opportunities between services every Sunday. Check the television monitors upon your entrance into the church for offerings and locations. And, always know you can ask anyone you see a question or for help to get you connected.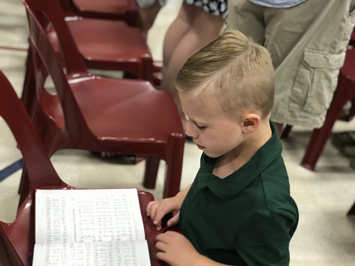 Children
Children are invited and welcomed to attend worship service so families may participate in worship together. We love sharing our pews with children of all ages because ALL are beloved children of God.
The congregation of First Lutheran Church has been meeting since 1870. Its founders were convinced that the community of Lincoln was in need of a church that focuses on practical, Biblical teaching as well as engaging the surrounding community. Over the years, our congregation has evolved to meet the needs of our people and serve each other well. We're committed to being a welcoming place for people of all backgrounds and to continue our legacy of supporting our city with a heritage of faith.
Want to get involved in worship on Sunday mornings?
From greeter and usher, to communion assistant and Bible Bearer, there are many opportunities to serve in worship on Sunday mornings. Contact us and we will get you connected. If it's your first time, we will train you ahead of time. If you have served before and want to again, it's as simple as signing up online!
We share a faith in Jesus Christ with billions of others, and we find that our faith is most understandable to us when we view it through a Lutheran theological lens.
Formally, that means we believe in the Gospel of Jesus Christ, revealed to us in the Bible, expressed in the Church's historic Creeds and witnessed to by the Lutheran Confessions.
The Trinitarian God: Father, Son and Holy Spirit.
The crucifixion, death and resurrection of Jesus Christ as the means of our salvation from sin and death.
The Old and New Testaments as God's Word, witnessing to God's actions through time and God's promises to believers.
By grace alone – God's free and undeserved gift;
Through faith alone – apart from any work or worth on our part;
In the Word of God alone – Jesus Christ, whom we know through Scripture.
Baptism as a sacrament, the means of grace whereby God claims us in a relationship of lifelong growth in faith and discipleship; and as the sign of each person's vocation or "calling," his or her role in the world for the sake of God.
Holy Communion as a sacrament, the means of grace whereby the believer encounters the very presence of Jesus Christ through bread and wine, receiving forgiveness and the assurance of everlasting life as surely as he or she sees, smells, feels and tastes the food and drink.
The Priesthood of All Believers; the understanding that all Christians are called to ministry within the Church and throughout their daily lives.
Cyndi Crouse
Parish Coordinator
Cyndi Crouse and her husband Gary, have been members at First Lutheran since 2009. Cyndi joined the First Lutheran Church staff in December 2016. Her responsibilities include maintaining church records, coordinating the church calendar, collaborating on various church publications and is the friendly voice you will likely hear when you call.  Cyndi and her husband, Gary, have two grown children and four grandchildren. In her spare time, she enjoys her family and friends, the great outdoors, cinema, and fabulous food often combining these activities. She also likes to ride her bike on the city trails, practice Yoga, take nature hikes, tour museums, art galleries and zoos.
Bryan Hanson
Church Accountant
Bryan is a long-time member of First Lutheran. Bryan and his wife, Sandy, are both retired. They have two children who live in Lincoln and Omaha and five grandchildren. Bryan enjoys exercising, golf and working in the yard in his spare time.
Greg Fisher
Building Superintendent
I became a member of First Lutheran in 1989. I am married to Kristi, who grew up at First Lutheran, and we have two boys, Dakota and Stephen. I have my own part-time appliance repair business so I am no stranger to electrical and plumbing jobs. I served as the weekend custodian at First Lutheran starting in 2015 until becoming the Building Superintendent in November of 2017. I consider First Lutheran Church as my family and my second home and feel privileged to help and serve the church.