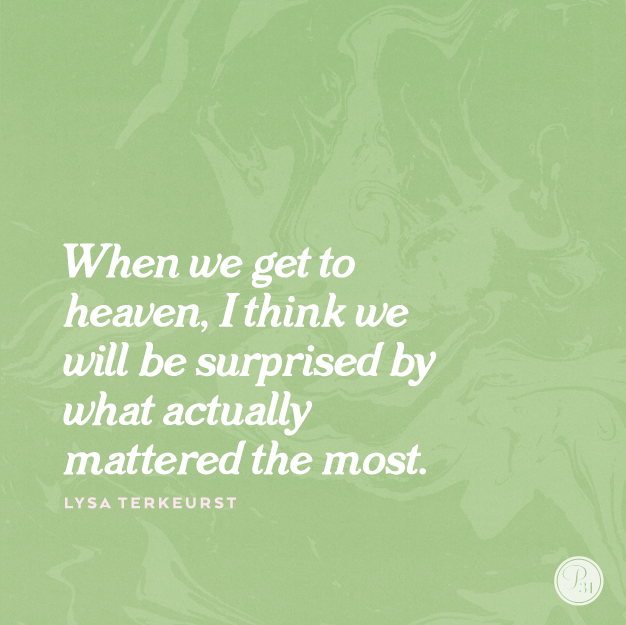 Isn't it funny how time passes by quickly, but a lot of our days sometimes end up looking the same?
We go to the grocery store to get food for our family just to have to go again next week.
We sit at the table for an hour, helping our kids put together a puzzle, and then have to break it apart and put it back in the box.
We hear about other people's accomplishments that seem so significant and compare them to our lives and wonder if we're making any kind of difference at all.
In the middle of all that seems so ordinary about our everyday tasks, it can feel like we're missing out on fulfilling a much bigger purpose or assignment. With a desperate sigh at the dailiness of life, we get to the end of these days and think, "Is this all there is to my one life? Or does God have something more for me?"
It's a sacred stirring — we sense it so deeply that we know it's not an inkling of our imagination, but rather, an igniting of God's revelation. God is pointing us in the direction of something. A blurry vision of how our seemingly ordinary lives could change the world.
The ordinary can be so very, very holy. In the midst of our ordinary lives, extraordinary impact is always possible.
When we get to heaven, I think we will be surprised by what actually mattered the most. What actually changed the world. What actually fulfilled the purpose for which we were created.
And the small places we showed up and served will actually be what prompts Jesus to say, "Well done. Remember when you took the time to share encouraging words with someone who needed them? That's the day you helped change the world."
Friend, you have a calling, a unique and wondrous calling from God, every day of your life. We find this truth spelled out clearly in Ephesians 2:10: "We are God's handiwork, created in Christ Jesus to do good works, which God prepared in advance for us to do."
Today it could be in the line at the grocery store. Tomorrow it could be a phone conversation with a friend. Wherever it is, remember: You were created to participate in God's divine activity.
We don't know the impact our lives could have at the end – how our stories could unfold, how our talents could be used and how God could redeem what feels purposeless in the everyday to bring hope to a world that desperately needs it.
He will not only use your life for extraordinary impact, but I fully believe God made the very DNA of your being to carry his hope and bless the world with it. Your life has never been and will never be wasted in the hands of our Creator. Every aspect has purpose and every moment has potential impact … even when you cannot see it.
So, today, take what feels very ordinary and place it into God's hands. Ask him how he would like to use it. Ask him to reveal who needs the extra dose of encouragement today and ask him to help you to really see others' needs as you journey along the path he has called you to.
Dear Lord, thank you for using me today. Even if my everyday moments feel insignificant, I know you will use them for great impact. I need your help as I learn to say "yes" to your calling on my life to participate in your divine activity. In Jesus' Name, Amen.
by Lysa Terkeurst; Proverbs 31