Sundays at 9:30-10:25 am in the Chapel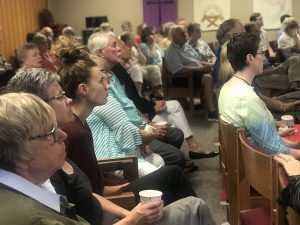 September 1 – Churchwide Assembly 2019 – Dara Troutman and Judy Batterman. Hear a report and stories about their experience at the Assembly in Milwaukee in early August.
September 8 – Gifts of Hope and the Mosaic Story – Jessica Javorsky, Community Relations Officer; Beatrice Mosaic Campus. Mosaic provides support to people with disabilities, mental and behavioral health needs, autism, as well as aging adults.
September 15 – Doing Well by Doing Good in the Fight Against Malnutrition and Hunger – Konstantinos Giannakas, Dept. of Ag. Economics, UNL. Hear how malnutrition and hunger can be reduced in hunger-stricken areas of the world through technological innovations.
September 22 – Stories of Accompaniment: High School Summer Accompaniment Trip to Puerto Rico  (to be held in the Activity Center).
September 29 – TBA