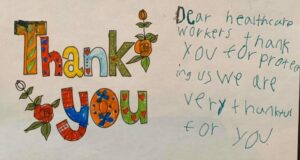 Many of us are looking for a way to help during these uncertain times and we have a opportunity for you to do something that will be so meaningful and important to others.
The healthcare workers have been working extra hours and are under an abundance of stress. We have been told they could all use a little boost to their morale through feeling the support and appreciation of the community.
Would you be willing to write a few notes a week to thank them and show your support and gratitude? We will be delivering the notes of support and thanks to the healthcare workers throughout Lincoln.
There is a mailbox inside the Gathering area of church (to your left) for you to drop your notes in each week. They will be distributed each Friday. There will also be blank cards available to pick up for you to use if you so choose, or feel free to make your own, or anything you might already have. These notes can be a simple, "Thank You for all that you do!", or any other expression of gratitude and support you would like to offer. We would love to have stacks of notes each week to spread our gratitude and support throughout Lincoln. Thank you for caring for those who are caring for our community!