During July we will collect items for Bridges To Hope, an ELCA ministry assisting men and women being released from incarceration. Learn more at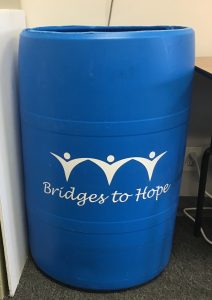 www.bridgestohopene.org. Watch for the Bridges blue barrel in the Commons. They specifically request the following items as most needed:
New men's boxer briefs underwear, especially sizes 2X – 4X (no tighty-whities, please)
Bath towels & washcloths (new or gently used)
Men's  and women's shampoo, body wash and deodorant
Liquid dish soap
Laundry soap – smaller sized bottles
Toothpaste
Personal care items and soap can be found for good prices at the dollar stores! Thank you!