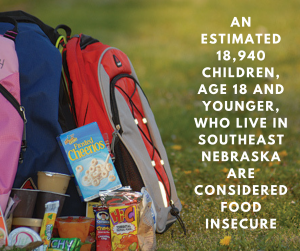 This summer our Vacation Bible School students learned the 50/40/10 rule. 50% of people know where their next meal will come from and don't worry about food. 40% are food insecure which means they are without reliable access to a sufficient quantity of affordable, nutritious food. 10% are living in poverty and consistently go hungry. The Food Bank BackPack program is one way Lincoln is working to fight hunger.
Your Noisy Offering this Sunday will support First Lutheran's BackPack Program and help us to provide backpacks of food at Pyrtle and Morley elementary schools every Friday afternoon during the school year.
So, gather your change (or bills!) and let's make a joyful noise while helping to feed hungry children and families!