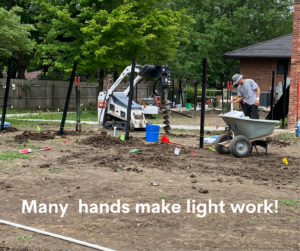 We are so excited to see the outdoor classroom come back to life after a good year of not having it due to construction work. In its new iteration, it will be a collaborative effort between First Lutheran Church and Dimensions Education Programs as a creative space for little ones (infants, toddlers, and preschoolers) to learn, explore, experience and wonder about nature. For our littlest FaithTrek friends, it will be a space where they can experience the marvels and miracles of God's wonderful creation up close and personal!
On Friday (9:00 am -3:00 pm) and Saturday (9:00 am-Noon) we invite you to a volunteer day to help us: 1) shovel, move, and spread mulch, rock, soil and sand; 2) build a sandbox, digging area, raised beds and little seats; and 3) dig holes and plant plants. Call the church office to let us know if you plan to help so we can plan ahead.
This will be a great way to meet others in the congregation, as well as new friends from the Dimensions Education Program in a service-oriented manner. We will begin with a prayer and blessing on our safety and "many hands," receive our instructions, break into work crews, take time for lunch and literally build community together. Here's what you need to bring: comfortable clothes and shoes for working outdoors, work gloves, mask-face covering, hat, shovels, rakes, brooms, a joyful spirit and many hands…you know…to make the work lighter!