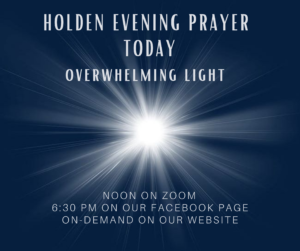 We invite you to join us in Holden Prayer Worship today at Noon or 6:30 pm.
This week's worship theme is "Overwhelming Light." Unlike all other nights, when the shepherds kept watch over their flock, there was a light piercing through the darkness – "the glory of the Lord shone around them" – and it terrified them. It was unexpected; it was unnerving; it was intense. And they became the next ones to receive the message – "Do not be afraid." Joseph heard it in his dream; Mary heard it in her vision. Now the shepherds hear it out in their fields. And every time the angels tell their listeners not to be afraid, the accompanying message is the same: things are not what they seem.
First Lutheran member, Jones Koffa, will reflect on times in his life that were filled with overwhelming light and when he was reminded to "not be afraid."
Spend some time also with
this week's devotional
that includes a scripture reading, coloring page and reflection questions.