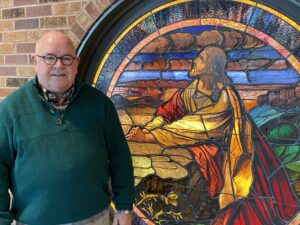 "He has saved us and called us to a holy life-not because of anything we have done but because of his own purpose and grace. This grace was given us in Christ Jesus before the beginning of time." 2 Timothy 1:9
About one and half years ago my wife, Judy, and I found ourselves newly retired from work in the church in Kansas and anxious to start a new chapter in our lives. So we moved to Lincoln to be close to our daughters and grandkids.
After we moved, we set up a time to visit with Bishop Maas and I became rostered in the Nebraska Synod. We had visited at First and were even invited to sing in the choir the first Sunday we attended. We appreciated the hospitality and the welcoming gestures of the people. When the pandemic started, we were no longer able to attend church and began worshiping online which made it very difficult to get to know anyone.
After receiving a call from Rev. Megan Morrow with the Nebraska Synod informing me about a need for a Transitional Associate Pastor at First Lutheran, I began a time of discernment and prayer in regards to this position. After a conversation with Pastor Steve and a Zoom meeting with the Church Council, I was offered the position and accepted the call.
I look forward to getting to know you and am humbled to serve as your Transitional Associate Pastor. I will share more about myself and ministry in the weeks to come.
Serving by God's amazing grace,
Pastor Bill Peterson