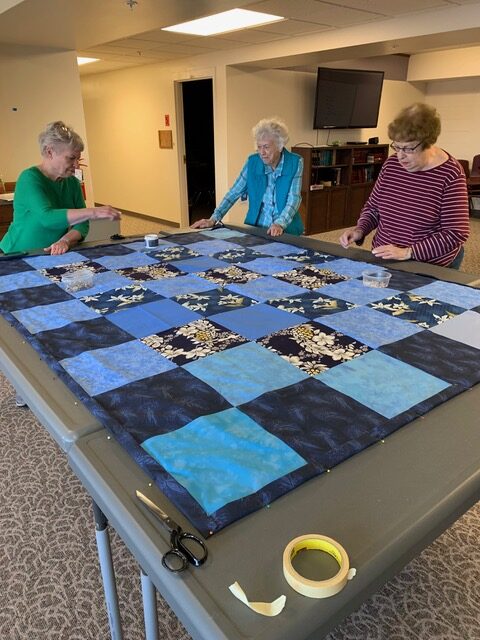 We all know that gifts of quilts are special … both for the giver and for the recipient. That's why First Lutheran Church quilters have had a busy year making quilts for Lutheran World Relief. As they make the quilts, they are mindful that many of the quilts may end up in Ukraine or with Ukrainian refugees in other eastern European countries.
Here's how you can help our quilters:
Quilters meet the fourth Thursday morning of the month beginning at 9:00 am. No sewing experience required. They welcome anyone to join them.
For those with sewing experience, quilt kits for tops are located on the counter in the Gathering Area. Feel free to take a kit home and sew a top.
Donate fabric (100% cotton preferred) for them to use in making the quilt tops and backs. Any amount is welcome, but they need to be able to cut at least an 11-inch square out of the donated fabric.
Pass the word around that they are looking for donations. Sometimes individuals have to move or downsize and need to get rid of their fabric "stash." A finished quilt uses approximately 8 yards so they are always in need of fabric.
Donate full or queen size flat sheets to be used for backs. Flat or fitted sheets if they are king size. Can be new or gently used.
Last year our quilters completed 85 quilts and are hoping to do the same number or more in 2022. Look forward to seeing the results of their efforts at the blessing of the quilts this fall. If you have any questions, call Karen Clementson (402) 483-6942 or Mary Phelan (402) 489-7380.