Our online sign-up for worship assistants in June is now live. We welcome all ages, as well as individuals, couples and families! Every worship role is important and helps our worship services to be welcoming and meaningful. If you are new to a role, no worries. We will train you!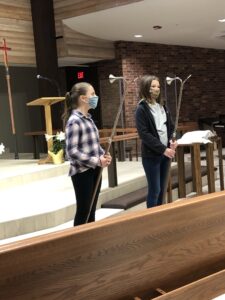 Here are all the ways you can serve:
Reader – All ages welcome!
Assisting Minister – Not as hard as you might think!
Communion Assistant (Assist pastors in distributing communion)
Crucifer – Can be heavy to carry so a few muscles and strength might be needed!
Greeter – Perfect for a family to do together!
Communion Set Up/Clean Up – So easy for an individual, couple or family to do together!
Bible Bearer and Acolyte – Ideal for a child or young person!