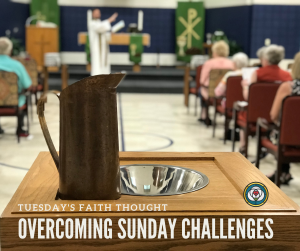 Tuesday's Faith Thought…
It is good to give thanks to the Lord, to sing praises to your name, O Most High. ~ Psalm 92:1
Do you sometimes face challenges getting to church on Sunday mornings? The challenges might be with your kids who don't want to get out of bed, lollygag dressing or eating breakfast or simply argue with you about going to church. By the time you get to church you are exhausted and not in a state of mind to worship.
Maybe the challenges getting to church are with you. It's hard for you to pull yourself out of bed when the alarm goes off. You think about your "to do" list and decide you don't have the time to go to church if you want to get everything done. Or, you rush around trying to get ready and to be there on time when you walk in at the last minute…just in time to catch your breath…but not in the best state of mind to worship.
Before the Israelites went to the temple they spent three days preparing themselves. Life gets busy and our worship life can suffer. Before Sunday, prepare your heart and mind for worship. Treat Sunday like any other day Do what you need to do to prepare yourself and your family for Sunday worship as you would to prepare for a school or work day.
Think of one challenge you face on Sunday mornings that keeps you from physically, or even mentally, showing up and prepared for worship. What is one thing you can do differently or better to overcome that challenge? Come up with a plan and then give it a try!
See you in Sunday (or Saturday evening) worship!