You created my inmost being: You knit me together in my mother's womb. I praise You because I am fearfully and wonderfully made. ~ Psalm 139: 13-14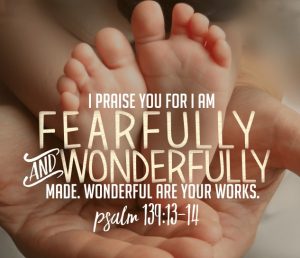 What is it about your personal self that you would change if you could? All of us have something. It's that one thing which, if we could re-do, would make us so much happier!
So many of us are dissatisfied with something about ourselves. Some things can be changed (like our weight) and others are here to stay (like how short or long our legs are). We just have to learn how to live with and deal with them.
There is a divine design to our complete selves. It is no accident when our eyes are blue, our hair is straight, our legs are long or our fingers are short and stubby. The Psalmist said it so beautifully: "You made all the delicate, inner parts of my body and knit me together in my mother's womb….You watched as I was being formed in utter seclusion, as I was woven together."
And then he expresses gratitude to God for this wonder: Thank you for making me so wonderfully complex! Your workmanship is marvelous!
God sees all of us through his eyes. And, what does he see? Something beautiful! A person he created with a plan in mind. We need to remember this. We are who we are for a reason. How we deal with the details is up to us. The best thing for us to do is to be thankful for them. Praise be to God!