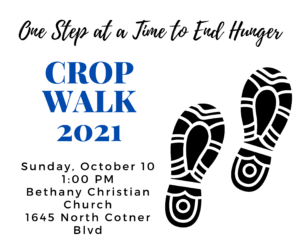 Join others in Lincoln and Lancaster County to end hunger globally and locally by walking or supporting a walker in the 2021 CROP Walk!
Working through the Church World Service Zero Hunger Initiative, $15 provides home gardening for a family, $24 buys chickens for a family, $90 equips farmers for a coffee crop and $115 builds a family latrine. Locally, your donation supports the work of Tabitha Meals on Wheels, Eastridge Food Pantry, Norris Food Pantry, the Indian Center and other food agencies.
You can walk with others in-person on Sunday October 10 or anytime between now and then or up to one week after!
Visit www.crophungerwalk.org/lincolnne to support a First Lutheran walker. Click 'Donate' at the top of the page, select 'Find a Participant or Team to Support', type in First Lutheran Church Lincoln and click on our church link. Select a team member to 'Donate' or 'Join The Team' and invite friends and family to support you!
If you prefer to make a donation in person, just bring your cash or checks (written to First Lutheran Church, with CROP Walk written on the Memo line at the bottom) to the church office.
Join us as we take one step at a time to end hunger!