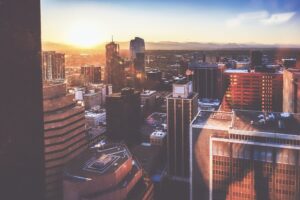 I lift up my eyes to the mountains – where does my help come from?  ~Psalm 121:1
Imagine you're on a street corner in a large city. Cars zoom by. People are rushing. Concrete buildings loom above.
Now imagine you ride an elevator to the top of a skyscraper and look out over the roof. The world's much bigger. You can see beyond the city. Forests. Mountains. And the sun shining on everything.
Too often we see things only from the street level. The baby won't stop crying. You're down with another cold. You're overdrawn at the bank. These aren't problems that should be ignored, but you can choose how you see them.
From atop of the skyscraper, how big are those problems? They're just a small part of the larger landscape that reaches to your life's horizon.
Sometimes you will need help raising your perspective to enjoy such a view. But it's your choice to leave the street corner and step into the elevator.
(Taken from 365 Devotions to Embrace What Matters Most by John Michalak)