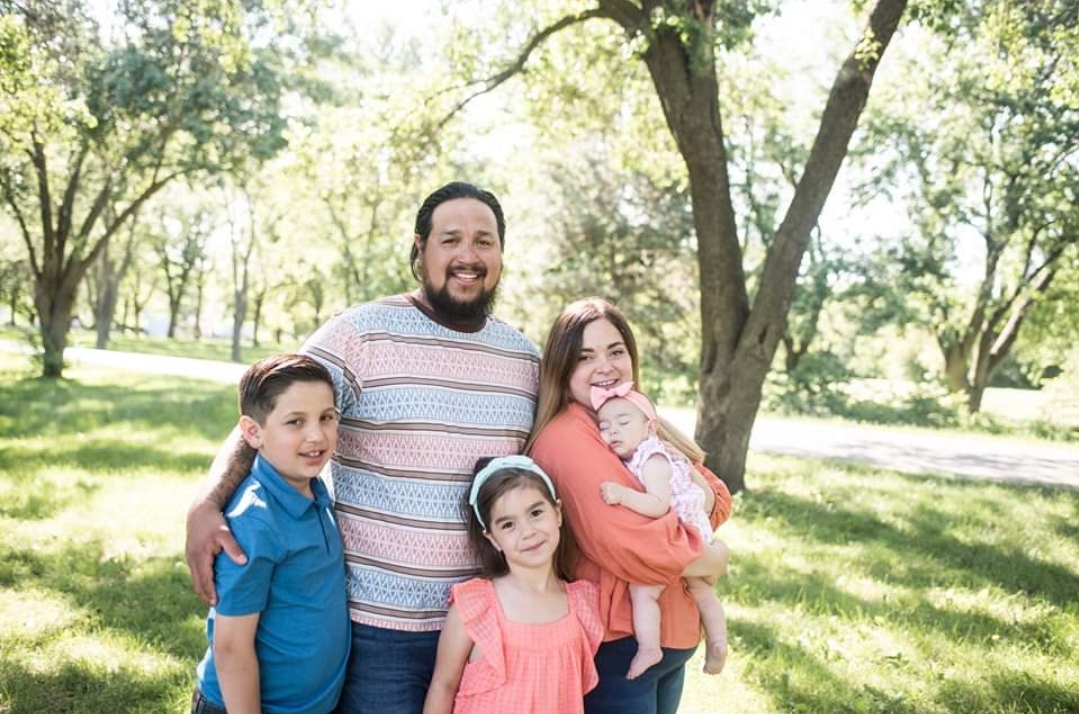 Hola y Hello! I'm Kayla Munoz, the owner and director of Las Abejitas Bilingual Education Center. I am so excited to have a partnership with First Lutheran Church! After touring and meeting such kind and helpful people, I realized that this was the perfect space to start my center, my dream. Las Abejitas (ah-beh-hee-tas) means "little bees" and is a nod towards the importance of nature, hard work and teamwork, all of which are important for developing strong minds. Although a group of children exploring nature, building a fort or reading a story may look like they are engaged in simple playtime, they are hard at work exploring their world, making new connections, and learning how to build healthy relationships with their peers. Through this same play, exploration, and instruction, students will be working towards acquiring Spanish/English fluency.
My love for education and for working with young children started at a very early age. For most of my youth, my mother ran an in-home daycare and I became her helper as soon as I was old enough. I also volunteered for my church's nursery room and a special education preschool program sponsored by Lincoln Public Schools. I helped my parents run a group home for foster children through Christian Heritage Foster Care Services throughout high school. I went to North Star High School where I volunteered to introduce English Language Learner (ELL) students to the school. That's where my love for the Spanish language began. During my last two years of high school, I also attended the Entrepreneurship Focus Program where I learned the ins and outs of running a business and wrote my own business plans. After high school, I attended the University of Nebraska-Lincoln where I earned my Bachelor's Degree in Spanish Education with an endorsement in Child, Youth, and Family Studies. During this time, I met my husband, Ricardo, who was a huge help in my journey to becoming fluent in Spanish. I learned firsthand the effectiveness of a combination of academics and immersion to achieve fluency. While finishing my degree, I helped to lead a before and after elementary school program, helped start and direct a child care center and taught Spanish preschool. After earning my degree, I taught at Lincoln High School, and soon realized my true passion was working with younger children. I currently teach Preschool through eighth grade Spanish at St. Joseph Catholic School.
I'm thrilled for this partnership and feel blessed to be surrounded by a church that is so supportive of my center and its mission. My hope is to collaborate with the church through shared events and by inviting members to volunteer with special activities, like story or art time. Be on the lookout for center updates! I will be announcing a limited number of priority enrollment spots for the congregation and open house dates soon! In the meantime, please contact me if you have any questions or would like to volunteer to help with cleaning up the outdoor play area, putting together toys and furniture, help with open houses or organize. I am also ordering some yard signs so if you live in the area or on a major street, let me know if you would like one to put in your yard. Thank you for the warm welcome!
Kayla Munoz
Owner/Director
Las Abejitas Bilingual Education Center
402.488.2859
Here is some basic information about Las Abejitas:
Philosophy
At Las Abejitas Bilingual Education Center we understand that each child is unique, and we strive to meet every child where they are, developmentally, socially and cognitively. Children naturally love to learn, and we encourage this inclination by providing a safe and nurturing environment in which they can explore and play. As a bilingual center, we foster a strong foundation in the child's first language while providing opportunities for second language acquisition.
Mission
Our mission is to provide quality child care by fostering a love of lifelong learning while providing children with a safe, nurturing environment to develop socially, emotionally, and cognitively. The bilingual nature of our program allows children to deepen their understanding of the world around them while promoting brain development.
Hours of Operation
Child care services are provided from 7 AM to 6 PM Monday through Friday.
Bilingual Learning
English/Spanish language acquisition is a key goal for our program. Early childhood education is the perfect time to introduce a second language in a natural, consistent manner. At this age, language is attained more passively, through play and socialization. Babies and young children form neural connections at a much  faster pace, allowing them to learn a second language much more quickly than older children and adults.
Children will have two main teachers throughout their day: one who speaks mostly English, and one who speaks mostly Spanish. Our teachers will start with simple language, using clear, concise speech, pictures, actions and repetition. Students will be taught preschool curriculum in both languages, engaging with the materials in many different ways: speaking, listening, drawing, creating, manipulating, and playing.
Learning Environment
We provide a rich learning environment with curricula that are developmentally appropriate to the specific ages in each classroom. We have a flexible daily routine that allows children to advance at their own pace. Furthermore, we strongly believe that learning happens through play. Learning and exploring are hands-on and are facilitated through interest areas. Our program is designed to enhance children's development in the following areas:  creativity, self-expression, decision-making, problem-solving, responsibility, independence, and reasoning. We encourage openness to those who are different from us, and the ability to work and play with others.
Tuition Rates
Full-time rates include up to 10 hours/day. Additional time or part-time will be charged hourly and the schedule will be predetermined on the Enrollment Agreement Form.
Infants (6 weeks -17 months)               $1,200/month, $290/week, $8.00/hour
Toddlers (18 months – 35 months)               $1,020/month,$240/week, $7.00/hour
Preschool (3 – 5 years)                   $850/month, $200/week, $6.00/hour
Preschool Program Only
8:30-11:30, one snack provided
M-F (4-5-year-olds)                                       $380/month, $90/week
M/W/F (3-4-year-olds)                  $230/month, $54/week
T/Th (3-4-year-olds)                                      $150/month, $36/week
1:00-4:00, one snack provided
M-F (4-5-year-olds)                                       $380/month, $90/week
Families contract for a specific weekly schedule as indicated on the Enrollment Agreement Form. Payment for this contracted schedule is required every week year-round whether or not your child attends; this enables us to pay teachers a stable salary every week all year. No credits are given for sick or vacation days, holidays, staff training closure, or closure due to inclement weather.