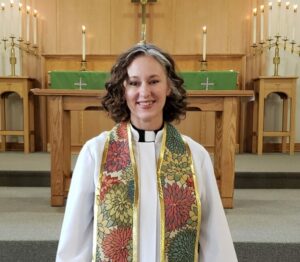 First Lutheran Church is excited to announce Pastor Erin Heidelberger as its new Lead Pastor!
Pastor Erin is Nebraska-born (Grand Island) and South Dakota-raised (Brookings). She earned her BA in Spanish and Political Science at South Dakota State University (SDSU) in 1996. While at SDSU, she first heard a call to ministry through faith mentors and her involvement in college ministry.
She was born into a Lutheran family, but spent her adolescent and college years in an evangelical denomination. As a young adult, she returned to the Lutheran church, drawn back to Lutheran liturgy and preaching and truly grasping the gospel news of God's grace for the first time. She continued to hear the call to ministry – now more focused on proclaiming God's love and grace through Word and Sacrament. She earned a Graduate Diploma of Christian Studies from Regent College in Vancouver, BC, in 2005, and her M.Div. from Luther Seminary in December of 2014.
Prior to ordained ministry, Pastor Erin worked for many years in university admissions. She also held jobs as varied as church youth director and administrative assistant at a national fish hatchery in Black Hills, South Dakota. She served her pastoral internship at St. Peter Lutheran Church in Spokane, WA.
Pastor Erin began serving her first call at Zion Lutheran Church in Aberdeen, SD, in March 2015 and her call has evolved from co-pastor to solo lead pastor. She just finished serving her first year as off-site intern supervisor and has served on a local Lutheran Campus Ministry board for five years.
She likes to spend her time outside of the church hiking, biking, gardening and traveling with her husband of 19 years, Cory, their 15 year old daughter, Katarzyna (Kasia), and their aggressively friendly Labradoodle, Ezra. 
Pastor Erin will begin her ministry at First Lutheran on Monday, August 16. She shares, "I'm incredibly excited to be joining First Lutheran in ministry and I'm grateful for the Holy Spirit's work in bringing us together! I look forward to getting to know you and walking with you as we proclaim God's love and grace to the community of Lincoln."
Join us for Pastor Erin's installation during worship services Saturday, August 21, and Sunday, August 22. A reception will be held on Sunday, August 22, from 9:30-10:30 am.