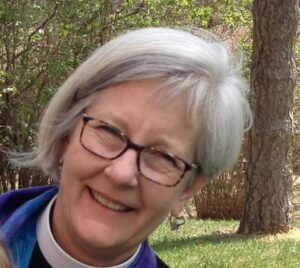 The sweet routine of life is settling in again; vacations are over and kids are back in school, the crickets are telling me summer is coming to a close, and this church has a new and delightful new pastor for your journey into the future. What a blessing! As this routine of new life settles in here at First Lutheran, I am thrilled to be joining you as a Transitional Associate Pastor to Pastor Erin and for all of you.
My name is Rev. Susanna DesMarais and some of you know me from the church around the corner on A Street where I served 9+ years as the rector (same as a Senior Pastor) of Church of the Holy Trinity. It was my pleasure to spend Thanksgiving Eve with you most years and enjoy your pie hospitality after worship. After my retirement in May, 2020, I started looking for a church home and found myself drawn to First Lutheran. When in-person worship began I started coming here regularly. I love being in the pew, but apparently God has different plans for me, at least for now.
My journey into ministry began later in life; I was a hospital librarian and a stay-at-home mom for a number of years, plus an importer before my boys (now men) were born. Eventually, I paid attention to the calling of God and entered ordained ministry as an Episcopal priest. The journey led me to Omaha for my first call, then to upstate New York where I served a parish in the Binghamton area before returning to Lincoln late in 2010. I love Lincoln and Lincoln has provided me not only a home and a wonderful ministry, but a husband; we were married in 2018. Currently, I serve as a hospital chaplain at Bryan Medical Centers and HoriSun Hospice.
Together, let us sink into the sweet rhythm of our church year, enjoying each other and our time as First Lutheran Church, a church I am deeply privileged to be serving for a time.