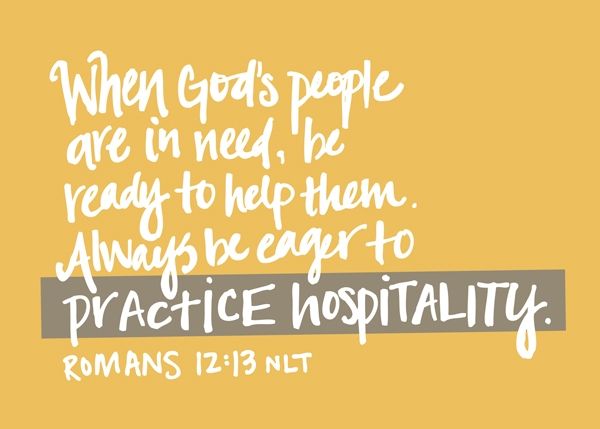 by Kathleen Simley, Communications Director at First Lutheran Church
Merriam Webster's Dictionary defines hospitality as, "generous and friendly treatment of visitors and guests or hospitable treatment." Dictionary.com goes further to define it as, "the friendly and generous reception and entertainment of guests, visitors, or strangers."
We all play an important role in how we treat guests, visitors and strangers. However, the individual who is the first point of contact plays a vital role in extending a friendly, welcoming and hospitable reception. They set the tone and can influence whether a person has a 5-star experience or not.
When my son and I were touring middle schools to determine which one he would attend after elementary school, it was the receptionist in the front office at each of the three schools that set the tone of our visit and ultimately influenced our decision.
The receptionist at the first middle school was friendly, but she didn't go out of her way to help us. She simply answered some of our basic questions and handed us information to read later.
The receptionist at the second school seemed irritated the minute we told her why we were visiting. She made us feel like we were an inconvenience and informed us that we needed to schedule a time to visit. So, we left with nothing in hand to read and none of our questions were answered.
The receptionist at the third school greeted us with a smile as soon as we walked through the door. When she heard why we were visiting, she immediately quit what she was doing and took us to meet the principal, school counselor and school nurse. They were ALL friendly and greeted my son by name. They asked him questions about his favorite classes and outside interests. They seemed genuinely interested in him and excited at the possibility of having him as a student at their school the following year. Each of them also thanked us for coming to visit their school. The receptionist also arranged for a student to give us a tour of the building and when we were done and ready to leave, she asked us if there were any unanswered questions that she could help us with.
As we got into the car to leave the third and final middle school, my son turned to me and said, "Mom, that's the middle school I want to go to." I agreed with him.
But I was curious as to if his reasons for choosing it were the same as mine. So, I asked him, "Why do you want to go to this school and not the others?" He answered, "Because EVERYONE was so nice and they all made me feel like they wanted me to come to their school."
If someone was to ask my son and me to rate our experience as a visitor at each of the three middle schools using a 5-star rating scale, there is no doubt the first two schools would receive 1 star and the last school would earn 5 stars.
Hospitality is best shown when you go above and beyond what is normally required. Though hospitality can be different for various people, it should always involve giving the best effort you can to provide a special and memorable 5-star experience. This is what EVERYONE we came into contact with at the third middle school gave my son and me. It made us feel welcomed and wanted and it influenced not only my son's decision to attend the school, but also my daughter's decision three years later.
Extending hospitality at First Lutheran Church is not something that happens only on Sunday mornings or is solely the responsibility of the pastors, ushers or greeters. We are ALL the first point of contact for extending hospitality. No matter which day it is, each time we enter the building we have the opportunity and responsibility to offer 5-star experiences to others – no matter their age or whether they are a visitor or a member.
Extending hospitality might mean you have to go out of your way and risk being inconvenienced or even a bit uncomfortable, but hospitality can also be simple, comfortable and enjoyable.
For example, when you see someone you don't recognize or who might be alone, approach them and introduce yourself. "Hello. I don't believe we have met. My name is Kathleen. What is your name? It's so good to meet you!"
When you see someone you have been introduced to in the past, but haven't connected with since or perhaps you forgot their name, approach them, "I'm sorry. I know we have met, but I am not coming up with your name. Please help me out."
If you see someone who appears to be "lost" and might be looking for someone or something or they don't know where to go, approach them, "Hi. I'm Kathleen. What is your name? It is so nice to meet you. Can I help you in some way?"
Always look for ways to extend the conversation beyond the initial introduction. Seeking ways to further connect with the person can take what might be a 3-star experience to a 5-star experience. Ask questions. Listen. Pay attention to things you might have in common with one another, information they might be seeking about First Lutheran or other members or staff you might connect them with. Always end your conversation with a welcoming and inviting statement, such as, "It is so nice to have met you today. Welcome to First Lutheran and I look forward to seeing you again!"
Never underestimate the influence hospitality can have on someone. You can't go wrong by going above and beyond with your gestures of hospitality. It can make all the difference as to whether someone has a 5-star experience and whether they will want to return to First Lutheran Church.