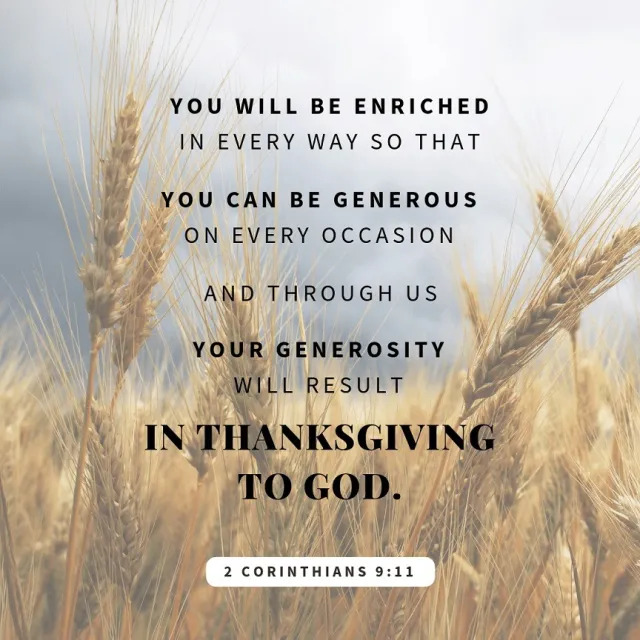 Our annual stewardship campaign kicks off this Sunday, September 11. During the coming weeks you will be invited to prayerfully consider what you will give to the ministries of First Lutheran in 2023. During this time of stewardship focus, we will ground ourselves in words from the apostle Paul in 2 Corinthians 9:8-12:
And God is able to provide you with every blessing in abundance, so that by always having enough of everything, you may share abundantly in every good work. As it is written, "He scatters abroad, he gives to the poor; his righteousness endures forever." He who supplies seed to the sower and bread for food will supply and multiply your seed for sowing and increase the harvest of your righteousness. You will be enriched in every way for your great generosity, which will produce thanksgiving to God through us; for the rendering of this ministry not only supplies the needs of the saints but also overflows with many thanksgivings to God.
In 2023, we will continue to steward all the wonderful ministries of First Lutheran. However, it is no secret that our life through the pandemic and much staff transition has been challenging. Our hope is that we can be back to full-strength with our staffing in order to support all of the ministry of First Lutheran and to enhance, expand and renew ministries.
Please visit www.flclincoln.org/stewardship to complete your online pledge card for 2023 and discipleship plan. If you need a discipleship plan or pledge card mailed to you, please contact Cyndi in the church office.
Mark your calendars now for Sunday, October 2, which will be Commitment Sunday, when Synod staff member, Deacon Timothy Siburg, will be our guest preacher and we will complete pledges of giving and discipleship for the coming year. (We will not hold Saturday evening worship on October 1.)
Thank you for being a partner in ministry!