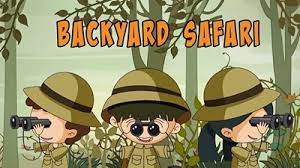 Are you looking for activities to do this summer from your backyard? We are offering Backyard Safari: Exploring God's World, by Pastor David L. Hall, with our own supplements and twists. The exploration will begin on Sunday, June 21, with a new exploration sent each week through July 26. We will provide kits with the supplies you need for each exploration. Stay tuned for details on how and where to pick them up. Here are our exploration themes:
Week One – "And it was Good" – Genesis 1:1-2:4a, 12-19
Week Two – "You Were on My Mind" – Psalm 8 and Psalm 139
Week Three – "Blowing in the Wind" – John 3:1-17
Week Four – "Jesus is My Rock" – Matthew 7: 21-29, Psalm 18: 1-2
Week Five – "Consider the Birds" – Matthew 6:24-34, Philippians 4:4-7
Week Six – "Look at the Stars" – Psalm 19
The Safari is designed to be done as a family. We encourage you to join together with extended family or friends through social media or meeting outdoors safely for your exploring. We will provide ways you can share pieces of your exploration with your extended First Lutheran family as well. Contact Sharon Hardel by June 14 to register so the supplies can be gathered for participants.