"Including the Rite for Holy Communion following the worship service is very meaningful. Thank you for adapting the service for shut-ins and for everyone to use during this time of the pandemic. The small chalice which I used at the Mt. of Olives while on a tour of Israel and Palestine is once again being used, but this time in my home." ~Kay Rockwell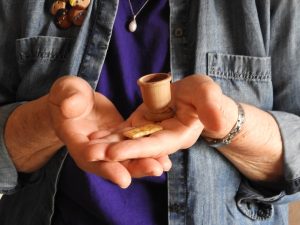 Tell us about your experience of "Home Communion in Exceptional Circumstances." How did it go? How did it feel? What was your experience of this sacrament like?
We live in extraordinary times which require extraordinary responses. Home communion with our "first church" is an extraordinary response. It is a surprising gift offered to us in the midst of this debilitating pandemic.
If you did not try it, or, if you were afraid to try it, I encourage you to come to the table…in your home…and receive Christ during our online worship service.
And, please, share your experience of Holy Communion with us.