So, as those who have been chosen of God, holy and beloved, put on a heart of compassion, kindness, humility, gentleness and patience. (Colossians 3:12)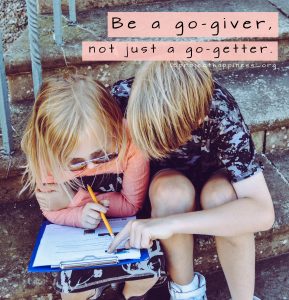 The idea of being a go-getter may be glamorized as you hustle to grab opportunities and get things done. So many people are trying to get things all the time. Too much emphasis on "getting" makes this world into a rat race.
One of the pillars of experiencing a more meaningful life is giving. Let "go-giving" be your motivation as well as go-getting. Be the person who is known as a giver, offering help and knowledge, generosity and kindness. When you balance getting with giving, you become a more wholesome and big-hearted person. A giving attitude gives you purpose and when you do get, you'll know what to do with it.