The Lord has anointed me to bring good news to the afflicted; He has sent me to bind up the brokenhearted, to proclaim liberty to captives and freedom to prisoners… ~Isaiah 61:1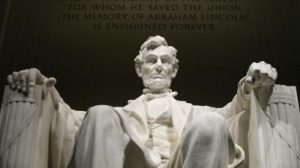 On January 1, 1863, Abraham Lincoln, our 16th President of the United States, said, "No people could be sold in America anymore, no brown children sold in the market, no weeping mothers sold away from their children, no roaring husbands torn from their wives, no more, done, the end."
Because of what he said and advocated against and for, he was assassinated. He knew he would be murdered for it and he did it anyway because he knew it was right.
Have you ever stood up for someone or for something, knowing it wouldn't be popular in the court of public opinion and that there could be consequences as a result, but you did it anyway because it was the right thing to do? Or, did you turn your head, ignore the situation and silence your voice?
God has anointed YOU to bring the good news to others and to be a strong and courageous advocate of his love for everyone! Do what you know is right – even when it might be hard or unpopular.
Happy Presidents' Day.
Lord, thank you for the tall skinny guy from Kentucky. Thank you for his courage. Help me to also be brave and to stand up for what is right. Amen.