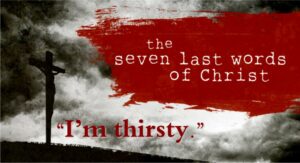 Have you noticed that water is becoming somewhat of a fancy trend?
Growing up I only had one option. Tap water.
That is, unless I was brave enough to drink from the creek by the family farm.
Today, grocery store shelves are lined with a plethora of water options: spring, mineral, flavored, sparkling – the list goes on and on.
Bottled water might be wrapped in snazzy labels. But the truth is, water in its most basic form is essential for living. And when you don't have any, it quickly becomes the most valuable commodity, wrapped in fancy packaging or not.
I was reminded of this truth during a long bike ride. Instead of getting an early start, I waited until after lunchtime and set out during the hottest part of the day.
I thought I packed enough water, but miles into my ride I ran out. As the sun beat down and my mouth started to dry out, all I could think about was my need for water. And how I was determined to get some in order to quench my thirst.
Jesus used some of his last words on the cross to say he's thirsty. John 19:28: "I am thirsty."
Instead of saying he's heartbroken, distraught or in pain after having been mocked and tormented by people who thought he was a threat and left alone by those closest to him, Jesus just says he's thirsty.
"I am thirsty," (John 19:28) is one of the last words spoken by Jesus on the cross.
And in this story, someone wet a sponge in a jar of sour wine and held the sponge to Jesus' lips. They heard his statement as a request, for liquid, and they met it.
But even after that gesture, was Jesus still thirsty?
Was he thirsty for justice and righteousness – for a world in which everyone has what they need and no one suffers at the hands of another? Was he thirsty for living water like he had offered the woman at the well when he told her who he was? Was he thinking about the way water dedicates people to God, like in baptism, or the way water helps people serve each other, like in foot-washing? Was he remembering his own baptism, with his friend John, with the voice from God calling him beloved? Was he, in these most difficult and lonely moments, yearning for some kind of connection? So he said, "I am thirsty?"
"Seven Last Words" is our Lenten theme and they are the sayings of Jesus from the cross as recorded in the Gospel narratives. This week's word is, "Thirsty," focusing on the passage from John 19:28.
Surely Jesus felt lots of things on the cross, but why do you think he chose "thirsty" as the one to communicate?
Has there been a time when you were really thirsty? What did you need? How did you know what you needed? How was your need met?
How can you answer the people in our world today who are thirsty for water, or connection or justice?
Join us in worship on Wednesday at noon or 6:30 pm (or watch our livestream on Facebook at noon) when one of our members shares a reflection based on the last word, "thirsty."